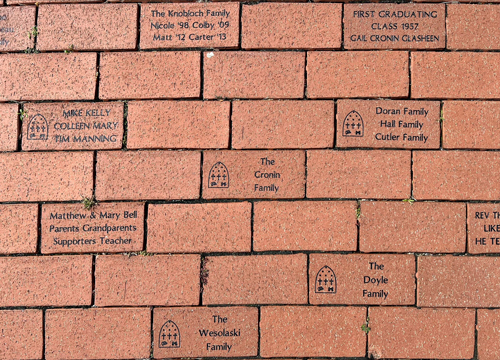 Thank you for supporting Saint Paul School. By donating a brick to our walkway, you will have the opportunity to celebrate your family's commitment to SPS, to honor a loved one or graduate, or to make a memorial donation. The support of our community is critical as we strive to provide excellence in Catholic education.
Please follow the prompts below to personalize your brick.
To complete your purchase, follow the link to the payment form.
In order for us to have your order, you must complete both the brick form and the payment form.
Orders close December 18, 2023 for our Spring 2024 installation. Bricks are $125 for your personalized brick and $35 for a mini replica brick if you would like a keepsake.Bricks will remain available after the December deadline, but the price will increase to $150 for installation at a later date.
These bricks will create a welcoming pathway at the entrance of the school to commemorate a shared history of Saint Paul School that paves the way for the future. This walkway is a reminder that we do not walk alone. Our community of knowledge and faith guides us forward.
All text is case sensitive and centered automatically on your order. Please use the spaces provided for your message and note that "characters" includes letters, numbers, and punctuation.