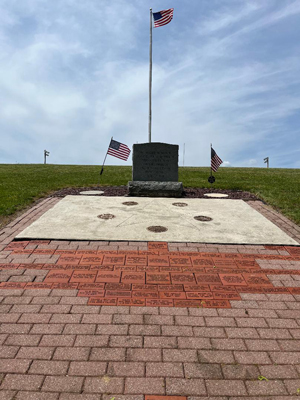 The Moore Township Recreation Commission has decided to open up the opportunity to buy a brick to honor and provide a lasting memory of a loved one who is a veteran or who is currently serving our country. Each brick will be placed on the Veteran Memorial located at the recreation center. The sizes are 4X8 which hold up to 3 lines with 18 characters for $55, or 8X8 for up to 6 lines with 18 characters for $110. All engraving will be in the same font and in capital letters.
Since this is a war memorial, only those who have served our country in the military should be imprinted on the brick. If you purchase a brick before September 30th, it will be placed in the memorial for Veteran's Day. Thank you for contributing to our memorial.

If you have any questions, please contact:
Jodi Hartzell, rec@mooretownship.org
Payment is by Check ONLY, payable to "Moore Township" and sent to:
Moore Twp
Attn: Rec Commission
2491 Community Drive, Bath, PA 18014
If you prefer to send in your form
CLICK HERE
to download the printable order form.