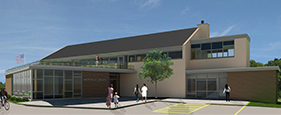 The Montauk Library Celebration Brick Program gives you an opportunity to set your name or the name of a loved one in stone for a memory that will last forever.
At the same time, you will be helping to support the Library that you love.
Bricks are available in two different sizes at different costs. In addition, a large brick is available with a custom logo or image that is perfect for a business or institution that wants to show it's support for the Library. See below for more details.
They will be located in the Plaza outside the new entrance. Over 300 families have already ordered bricks but there is still plenty of room. Order soon to be included in the next order of bricks.
Contact
foml@montauklibrary.org
for other naming opportunities at higher costs.
If you prefer to pay by check CLICK HERE to download the printable order form.