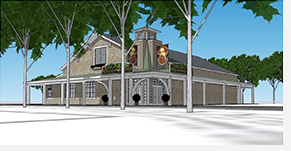 Construction for the new Dickens Parlour Theatre is well underway and we couldn't be more excited. Our state-of-the-art venue will seat 99 patrons in the Performance Parlour and another 99 in the Great Hall (the event center that adjoins it). Our new home will be extraordinary in every detail while keeping with the charm and intimacy of our old theatre. We are writing because we would love to have you, and fellow family, friends and sponsors, become a permanent part of this remarkable facility, and in a way you can really make a difference.
An important part of the Theatre will be the brick walkway that surrounds the premises. We would be delighted if you would leave your permanent mark in Dickens historic path with a custom engraved Commemorative Brick. By purchasing a Commemorative Brick, you can pay tribute to yourself, a friend, a family member, or your company, while at the same time helping Dickens Theatre continue to bring magic, music and great entertainment experiences to our community now and long into the future.
Please purchase your Engraved Commemorative Brick now for only $100. A limited number of bricks are available, so please order today. Because the space is obviously finite, we are limiting the purchases to four bricks (4) per person.
Thank you for your continued support!
We can't wait to turn the lights on, raise the curtain and see you again!
THANKS FROM ALL THE FOLKS AT DICKENS
If you have any questions, please contact:
Cheryl DeBois
302-829-1071
manager@dptmagic.com